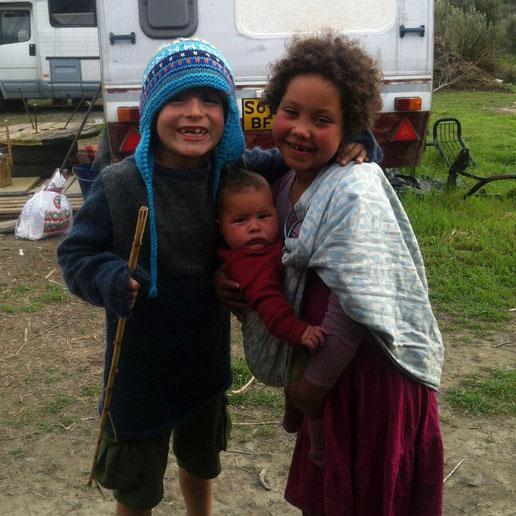 These are Ako and Edda with Asa in the sling. Edda and Asa are my children number two and three. Asa is lucky to have such a caring big sister. Edda is lucky because she learned how to use a ring-sling at the tender age of five. When, in the future, she becomes a mother herself, it will be normal and natural for her to carry her own baby.
Babycarrying, also called babywearing, either in a sling or a good baby carrier, beautifully supports bonding between you and your baby and contributes to a healthy physical, mental and emotional development.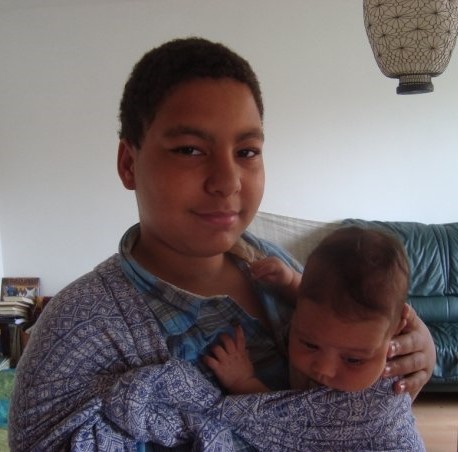 This is Marvin, Edda's brother, carrying her when she was a baby. As you can see, it's a family tradition! Marvin is now grown up, but can still recall the memory of being carried on mom's back himself. He warmly recommends babywearing!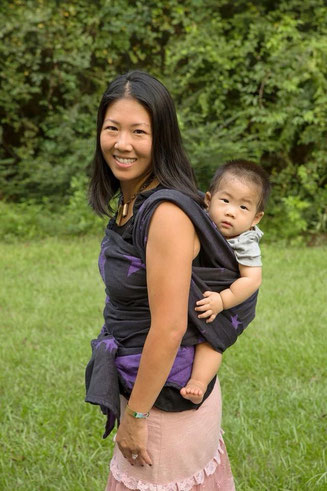 These are Doro and Caleb. Doro has the following message to share with you:
"I loved the special bond and connection that breastfeeding Caleb and wearing him gave us. Yes, he wanted to nurse all the time. Yes, he wanted to sleep with me and next to me for a few years. Yes, I was tired but babies are supposed to be next to their mothers! I feel that God gave me the ability and strength to do this for Caleb and provide for his needs naturally. Babywearing also helped me to care for my older toddler while providing for Caleb's needs!"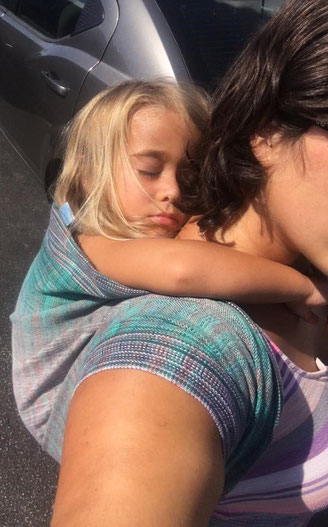 This is Christina with Charlotte, 3 years at the time. There is a special story about the birth of Charlotte, as she was her mom's first vaginal birth after two previous caesareans and her birth was also a freebirth.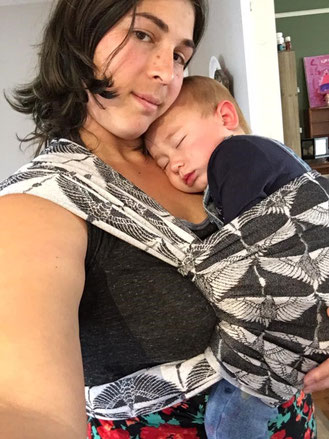 This is Christina again, here with Ivy. Ivy is her fourth baby and second freebirth. And here is Christina's message for you:
"You hear a lot of talk about the "fourth trimester" the first three months of a baby's life outside the womb that can be very difficult for both mother and baby. Baby wearing is such a natural way to ensure that this time period is spent enhancing the bond between infant and mother, as well as giving a father the experience of carrying the baby on his body if he so chooses. Not to mention the new mother can still do other tasks while baby sleeps on her body and neither has to be separated from the other."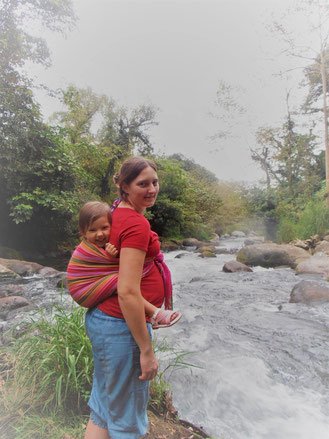 This is Janaina and her daughters in Mexico. Gaia is in the belly, Lidita on the back and loving it.
Another lovely picture of Janaina, Lidita and Gaia, returning from a journey. Lidita is on the back, as she is the heavier one. Baby on the back African style with an African wrapper tied around the breast and free shoulders is Janaina's prefered carrying style.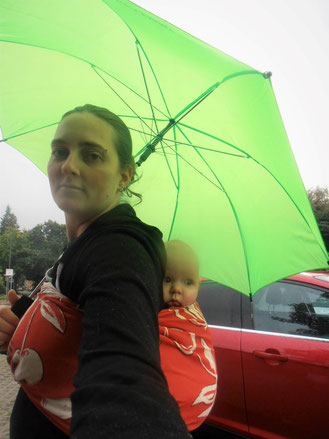 Come rain, come shine, babywearing is always fine!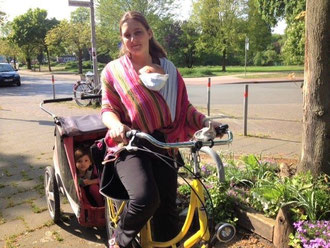 On the bike with two kids? Janaina figured out a solution that workes very well for her.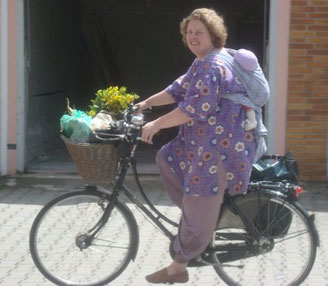 This was my bike solution. Back from the market with Edda, my second one.
These are Nikki and Tristan. Tristan is snuggled in a cosy elastic wrap. Nikki's message to you is very short and simple, yet most profound: